Life and People Are The Same
Here's another welcome letter and pictures from my friend in Holland.  She points out that there is little difference in life and people wherever we live, and it's good to be reminded.  The picture is of the house where she lived (with two other families) when she first married. It was built in 1597, long before the United States was even thought of, and Utah an unheard of wilderness.  There's the difference between Utah and Holland. I changed a few of her phrases, but you'll make out alright.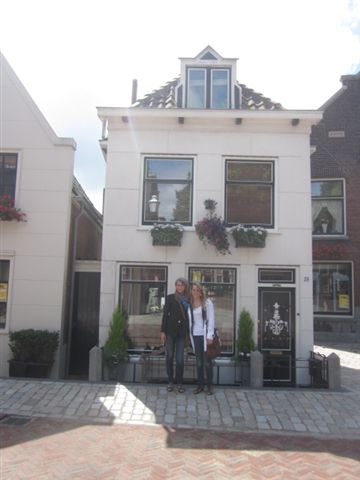 Dear Ethel,
 
First I must tell you that your articles are so real, I read them all, and try to translate it and send it to 9 school friends.   We are all 73 years and we find out that whether you live in Utah or in Holland, some things in life are the same.
Yes, some of your stories bring a little tear but also there are things that brings a big smile, the article about grey hair was one I laughed over.
See, I started out  really black but before I was 40 years I was completely grey, but, you must believe me, in one week I tried every color, brown, blond, red and on the end of that week Bert said, "Please, just stay grey and no other  colors only gray.  And, yes 6 of my schoolmates were gray very young and we like it all.
But they have also read your book "The Sunset of the Farmer" and they like it very much.  Your stories there, tell how we lived in that time, too.
Yes the very old town Vlaardingen (where she now lives) was split in two parts.  One part was all very small houses and there lived the Fishermen and their families, and the women would sell the fish in the City of Rotterdam. The mothers were alone, because the fathers were on the sea, and the children eat every day the same food:  fish. 
The other part of Vlaardingen was farmers.  They had big houses, but worked from half in the night till dark.  The women sell the milk, eggs, vegetables, and they make cheese.  Nobody was rich, but they lived in peace and when you was a child you walk more than a half hour to get to school. 
Yes,  some children had a fish odeur and the others you smelled of the cows, but that was all normal, and the only  difference between Utah and Holland was you had too much sun and we had too much water!
Then another thing you maybe already know is that two granddaughters of Maria (the link between us) are here for three weeks with our grandchildren in Ede.  Last Monday they were here and they where so impressed by the very old buildings here.
I'm sending  you a few photo's, one photo from the harbour, and yes one where we are eating fish, and a photo for the first house where Bert and I lived from  1958 en 1959. It is the white house and we live there with two other families.  It was build in 1579, but we were so happy, we had a home and many youngsters don't have that in that time. 
Yesterday they get to Paris for a week with our son and the children, and this morning I get a picture from breakfast on the terras of their appartment in Paris, I wish I was there!!!
Ethel keep writing and know that in Holland we read every thing of you, and yes… I am very proud that I can say that You are my soul sister! (Ethel says, "Me, too")
 
Love, and please take care of yourself,
 
Bert and Corry